Bulletin Board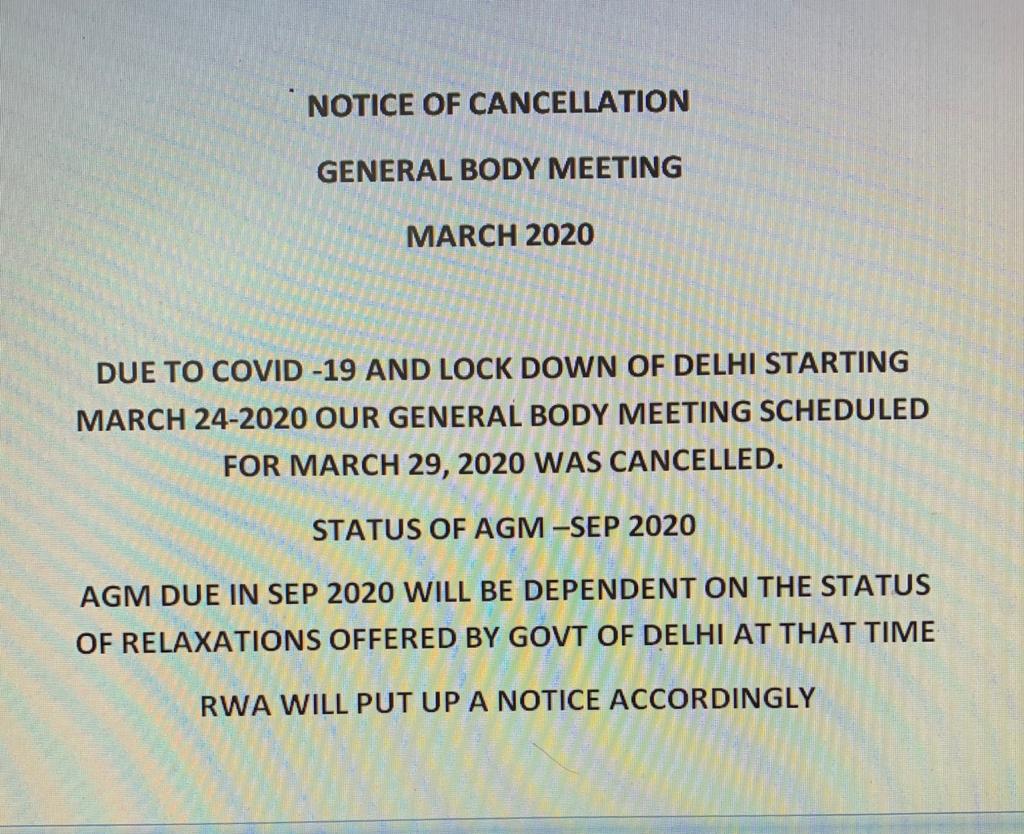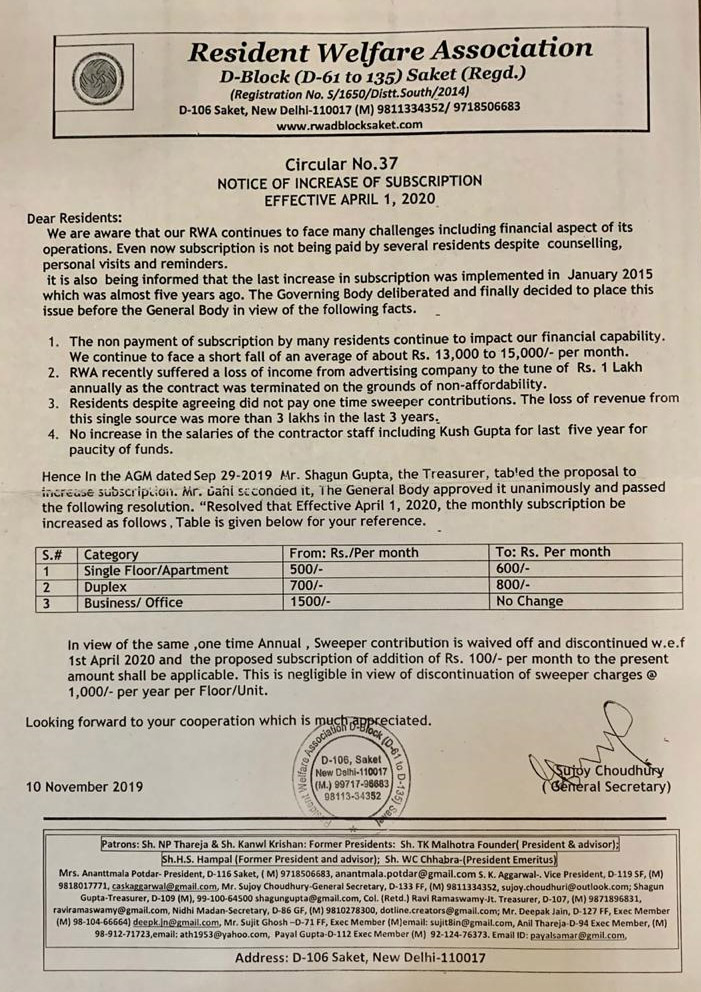 List of Events
1. Circular No. 37 Notice of Increase subscription Effective April 1, 2020 (click here)
2. Circular No. 30: General circular for Special and General Body Meetings -March 24-2019 (click here)
3. Circular No. 31: Notice of Special General Body Meeting (march 24-019 (click here)
4. Circular No. 32 Notice of General Body Meeting (March 24-2019 (Click here)
5 . October 14, 2018 AGM
6. April 1, 2018 Police verification camp
7 . 15 Aug 2018 Independence Day
8 . March 18, 2018, General Body Meeting (Click for Notice)
9 . Jan 26, 2018- Republic Day
10 . Sep 3, 2017 - Click here for AGM Notice (Click for AGM Notice)
11. Aug 15, 2017- Independence Day
12. March 26, 2017- General Body Meeting
13. Sep 11, 2016- AGM (Click for AGM Notice)
14. March 20, 2016- General Body Meeting
15. October 18, 2015- AGM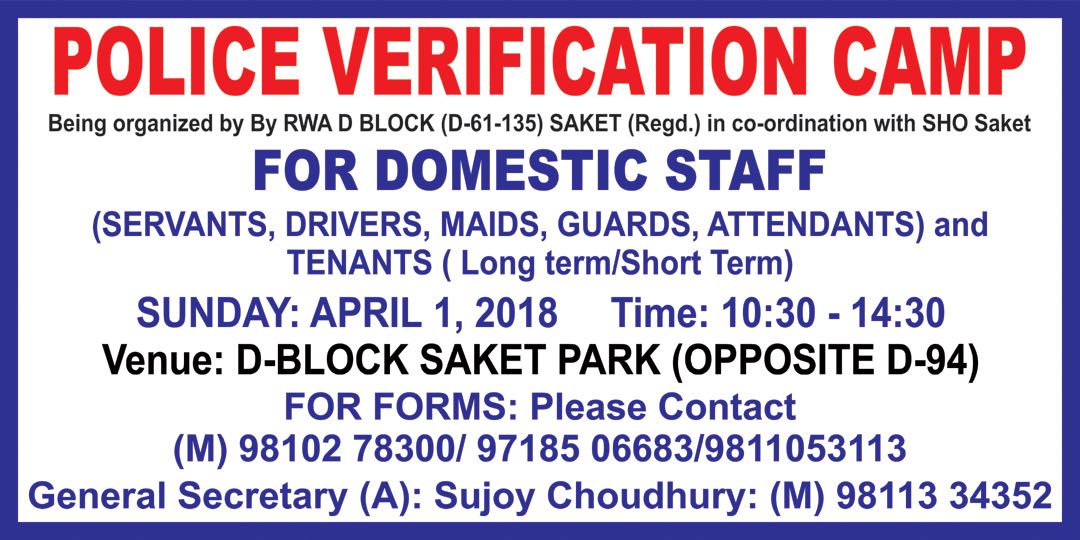 RWA is organising its second police verification camp on Sunday April 1, 2018. Residents are welcome to avail this opportunity and help Delhi Police create a safe and secure environment for all of us.

Dilemma posed to RWAs by Non-payers or short payers.

It is a well known fact that a good number of RWA members do not pay their subscription on flimsy, whimsical and funny grounds and RWAs suffer funds crunch. Almost all RWAs in Delhi , including ours, suffer from this "care a damn" attitude of several members who are well off financially yet do not follow rules. They just stop paying for some reason or the other. They find strange excuses to avoid their contributions.

RWAs moan and groan but cannot do anything about it.

The non-payers do enjoy all services and privileges like security, peaceful environment free of traffic congestion and clean surroundings etc but yet they do not pay their subscription. Instead of extending their own voluntary help and contributing to Society they become an obstruction in the sincere efforts of RWAs.

The Govt. has not made any rule to ensure that all members of RWAs pay their due share of subscription, enforceable by Law, and thus ensure the non payers do not live on the cost of sincere law abiding payers.

Someone rightly said " the society is not bad because of bad people but because of good people who don't care"

Having failed in realising arrears by polite reminders and follow ups, Some RWAs have gone to court and filed suits of recovery under civil Law. The decisions in all cases known, have gone in favour of RWAs who are duly registered and work under rules, selflessly for community cause.

Some members take the plea that they do not want to be members or withdrew from membership due to so and so reason. The fact is they have no choice. They are members by default. Any registered Association/ Society encompasses a fixed number of houses and the RWAs base their expenses on the premise that all members will pay. Those who do not pay end up throwing a spanner in the running wheel. The RWA managements face a nasty challenge.

RWAs have only one option and that is to seek relief direct from a civil court.

One such case from Saket Court is referenced below.

Click here for viewing this one most relevant Saket court judgement.
Members from our association and other welfare Societies in our neighborhood can view latest events posted by our Welfare Association from time to time. We hold Health camps, Senior Citizen activities including their entertainment, Children games, Vehicle pollution camps and cultural events.

Public Meetings by Area Councilor , Ms. Kishna Vati of AAP- Lado Sarai Zone and Sh. Naresh Yadav, AAP-MLA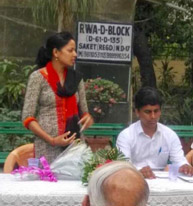 Area councilor holds regular meetings with residents on

Saturdays
1000 - ​ 1200 noon to discuss issues related to MCD, DJB, DDA, BSES, PWD etc.

Her contact Number is (M)-98-997-50014
​Please confirm before coming at Office Phone: 011-6502-0282​

Venue: Auditorium, Senior Citizen Welfare Association office ( SCWA) opposite PVR Anupam ​cinema ​ Complex. Saket.
​Note: ​ Same venue and same time slot is also used by ​Senior Govt. Officials, ​ MLAs, ​VIPs, ​ and officials from Delhi Police to address residents ​on various issues. Such meetings are notified in advance through ​circulars.​